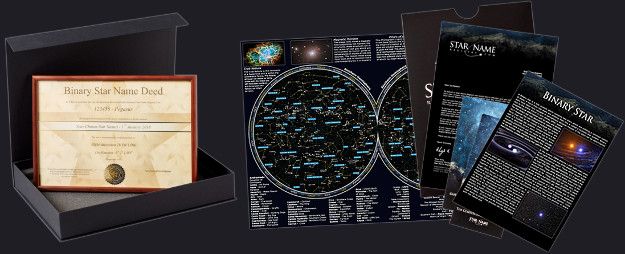 This is our
Binary Star Gift Set
Name a real star, the Extra Bright package offers you everything you need with entry into the star register. With the Binary Star package you get the chance to name 2 stars orbiting each other, this package contains a gift explained sheet with facts and information regarding these stunning Binary stars.
Choose your own two star names, memorable date and personal message. Full Gift Set includes:
Entry into the registry.
Locating via our New App.
High Quality Star Name Deed.
The Sky Atlas Constellation Maps.
Confirmation letter.
Dark Wood Certificate Frame.
Black presentation box.
Optional Star Map/Chart.
Optional constellation choice
FREE 1-3 Day Priority Shipping.
Using the latest services through our Courier service, we can get your order processed and shipped on the same day, delivered within 1-2 or 1-4 working days. Our professional courier service allows your order to get where it need, when it's needed and as it's needed in perfect condition. If you need it even faster, then pick an email package which will arrive in your inbox within 1 hour. International shipping is 3-12 working days including India and UAE.